We are proud to announce that the Austin Chamber of Commerce has recognized us as one of the city's most innovative companies thanks to our work helping pharmaceutical companies bring drugs to the market faster. This is the second time in the past three years we've been recognized with this award, previously topping the Austin A-List in 2019. 
We were nominated and ultimately won in the Early-Stage category. Our team is very passionate about the work we are doing and it was nice to receive this recognition for this work.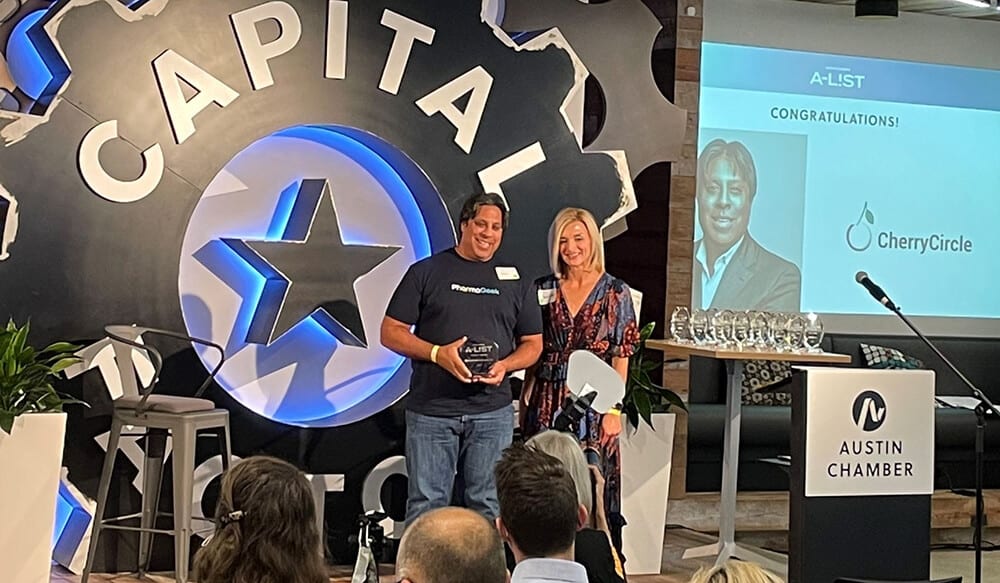 Now in its tenth year, the A-LIST Awards, in partnership with SXSW, highlights homegrown tech and innovation as a way to highlight Austin's most fundable, scalable, and innovative companies while increasing global visibility, funding, and attracting top talent to our city.
We were nominated beside fellow S3 Ventures portfolio company, LeanDNA, who won the late stage category.
Just like in 2019, this recognition is a testament to all the great work we're doing at CherryCircle Software and our commitment to helping the pharmaceutical and biotech industry efficiently and swiftly deliver the next generation of breakthrough therapies for our community.
This award speaks volumes to the quality of the team we have built as we pursue a bold mission: to redefine how pharma and biotech companies think about and manage the development of their manufacturing processes. A huge shout out to the CherryCircle team, it's advisors, and directors.
If you'd like to learn more or see the complete 2021 Austin A-List, click here.